Schedule | Lesson Types | Tuition | Policies
Expertise and Experience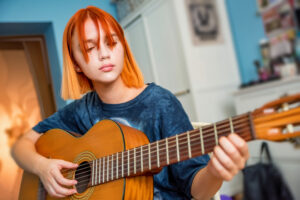 Music is essential for the enrichment of the human spirit. The goals of teaching music are to enrich the lives of children by playing a musical instrument and to give each child the satisfaction that comes from the ability to do something well. Dr. Berlin offers much more than a private music lesson. Our time together encompasses a philosophy of education that applies to many aspects of a child's development such as discipline, memory, focus, self-esteem and confidence.
Dr. Berlin holds a doctoral degree in music education and has over three decades of experience teaching students of all levels. He is a certified Suzuki guitar and recorder instructor. Additionally, Dr. Berlin is trained in Modern Band (Little Kids Rock) and Kodály music learning theory. He uses this expertise to guide each student along a fulfilling, life-long  musical journey. While many students who begin are very young, he also has lots of experience teaching middle and high school students, adults, seniors, and even other teachers! His extensive background in many genres of music making is evident in every lesson and drives the demand for his services.
Dr. Berlin's affiliations include:

 

Accordionists and Teachers Guild, International
American Recorder Society
American Society of Composers, Authors, and Publishers
American String Teachers Association
Guitar Foundation of America
National Association for Music Education
National Board for Professional Teaching Standards
Puppeteers of America
Suzuki Association of the Americas
Texas Classroom Teachers Association
Texas Guitar Directors Association
Texas Music Educators Association
Dr. Berlin realizes that modern family schedules can be very complicated. For this reason, lessons are not only offered in our studio but also conveniently in your home and through video conferencing. He is glad to go above and beyond to accommodate complex schedules.
Many students have the goal of studying music professionally.  Others simply play for the love and enjoyment of music.  One has even played in outer space! Where do you want to go?
Take the First Step…
If you are ready to schedule your lesson, please contact Dr. Berlin. There are limited openings each new term, so don't delay.