Playing the organ is fun! Whether you inherited a spinet organ and want to play at home or aspire to play elsewhere, you will find that learning to play the organ can be a wonderfully enjoyable experience. Because organs have two keyboards and a pedal board (not to mention all those buttons), they can seem intimidating at first. But through regular carefully-sequenced lessons and regular practice, you will discover how fun and easy it can be!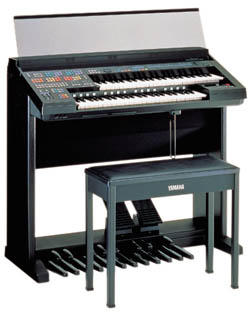 Example of a basic spinet or home organ.
This is an older Yamaha Electone. Dr. Berlin's spinet organ looks like this.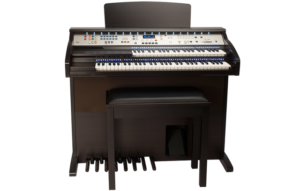 This is a modern Lowrey EZ-10.
Their most basic organ with two manuals and a pedalboard.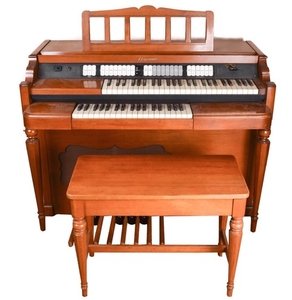 Maybe you have something older...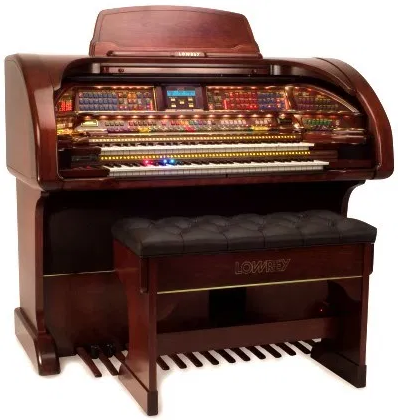 ...or fancier!
Because you will want to gain the most experience on YOUR organ, in-home lessons are preferred for organ students.
In our lessons we will use the Palmer-Hughes Spinet Organ Course.  This eight-volume series brings learners from simple fundamental pieces in Book 1 to advanced-entertainer-level piece in Book 8.  While this series does contain many pieces from the classical canon, it is considered more of a popular organ course.  But it does establish a solid foundation for those who will later want to focus on particular styles such as classical or church music. From the publisher:
A musically stimulating, visually exciting course for organists who want to play by reading music. Contains a new system of chording which limits left hand movement. Chords are presented in the best sounding inversions for normal playing. These chords progress logically and smoothly from one to another, resulting in a more professional style of playing.
Another reason Dr. Berlin loves this method is it's close relation to Alfred's Basic Piano Library and the Palmer-Hughes Accordion Course, all of which were authored by Dr. Willard A. Palmer. By using a related repertoire, the piano student can easily learn organ as a second instrument. Likewise for the accordion student. Why should a keyboardist be limited to one instrument? Learn them all!
Take the First Step…
If you are ready to schedule your lesson, please contact Dr. Berlin. There is a VERY limited amount of openings each new term, so don't delay.
---
The Palmer-Hughes Spinet Organ Course repertoire includes:
Book 1 - Merrily We Roll Along, Merrily We Roll Along (Hands Together), Merrily We Roll Along (With Three-Note Chords!), Merrily We Roll Along (For Two Manuals and Pedal), Largo from "The New World" by Dvorak, Lightly Row, Aura Lee (Love Me Truly), Beautiful Brown Eyes, Drink to Me Only With Thine Eyes, Ode to Joy (Theme from the Ninth Symphony), Hi-Lee Hi-Lo, Pop! Goes the Weasel, Red River Valley (Five Finger Version), Carnival of Venice.
Book 2 - You're in My Heart, You're in My Heart (With New Pedal Style), Waltz from "Poet and Peasant", Black Hawk Waltz, Come to the Sea, Camptown Races, Camptown Races (With Rhythm Accompaniment), On Top of Old Smoky, On Top of Old Smoky (With Rhythm Accompaniment), The Can-Can, Tourelay, Village Tavern Polka
Book 3 - The Donkey, Old Folks at Home by Foster, My Wild Irish Rose by Olcott, Down in the Valley, Down in the Valley (With Rhythm Accompaniment), Echo Waltz by Behr, The Sidewalks of New York by Lawlor and Blake, The Riddle, Old MacDonald, Shortnin' Bread, Chiapanecas.
Book 4 - Ta-RA-Ra-Boom-De-Ay by Sayers, Good Morning to You!, Cradle Song by Brahms, Oh Where Oh Where Has My Little Dog Gone?, Long Long Ago by Bayley, County Fair, All Through the Night, Vive L'Amour, Over the Waves by Rosas, La Spagnola by di Chiari, Julida Polka, Marine's Hymn, Daisy Bell (Bicycle Built for Two) by Dacre, Variation on "Ah! Vous Dirai-Je Mamman", Cielito Lindo (Beautiful Heaven) by Fernandez.
Book 5- America the Beautiful by Bates and Ward, Country Gardens, Aura Lee (Love Me Truly), Barcarolle from "Tales of Hoffmann" by Offenbach, Believe Me, If All Those Endearing Young Charms by Moore, Hi-Lee, Hi-Lo, Greensleeves, Just a Song at Twilight by Molloy, Cappricio Italien by Tschaikovsky, She'll be Comin' 'Round the Mountain, Andantino by Lehare.
Book 6 - Tiratomba, Cotton-Eyed Joe, Home on the Range, Merry Widow Waltz by Lehar, Theme from "Polovetsian Dances" by Borodin, Jenny Lind Polka by Wallerstein, Santa Lucia, On Wings of Song by Mendelssohn, Beautiful Dreamer by Foster.
Book 7 - Hava Nagila, Danube Waves, Little Brown Jug, Mod Mozart, Relative Samba, Scarborough Fair, Fascination by Marchetti, Battle Hymn of the Republic
Book 8 - Comedians' Dance by Kabalevsky, Dengoza by Nazareth, La Cumparsita by Rodriguez, Melody of Love by Engelmann, Come Back to Sorrento by de Curtis, Waltz Theme by Durand, The Glow-Worm by Pul Lincke, Prelude in A Major by Chopin, Nine Blind Mice by Palmer, Roumanian Rhapsody No. 1 by Enesco
---
This series has supplementary material in
Easy Solos for Spinet Organ Book One - The Donkey, The Grey Goose, Buffalo Boy, Old Blue, Meldy by Franz Schubert, Liza Jane, Jumping Beans, The Hokey Pokey, Indian Song, A Hunting We Will Go, Mexican Polka, The Monkey and the Owl, The Three Fisherman, and Alouette.
Easy Solos for Spinet Organ Book Two - (I have misplaced my copy of this book. I will order another an put the contents here when it arrives.)
Easy Solos for Spinet Organ Book Three -Red River Valley, I Wish I Was Single Again, Comin' Through the Rye, In the Good Old Summer Time, Ding Dong Song, The Yellow Rose of Texas, Marianne, Sweet Molly Malone, Sweet Rosie O'Grady, Dunderbeck's Machine, Lolly Too Dumn, Tom Dooley, Can't You Dance the Polka?, Amazing Grace, The Desperado, and Jacob's Ladder.